It is one of my great inspirers. His work fascinates me from my childhood. Gaudi's architecture has managed to fuse fantasy with mother nature. Its undulating shapes and vibrant dynamism ignite in my work my passion for its great artistic legacy.
Barcelona and Gaudí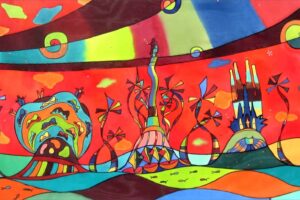 This painting represents a fun and cheerful skyline with emblematic buildings of Gaudí and Barcelona. The silk support enhances the vibrant red color to capture the passion for the hometown one loves.
Batlló House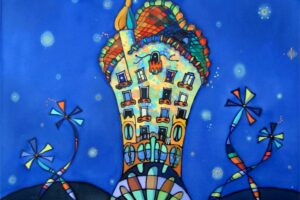 The most fanciful work of Gaudí that I fell in love with since my childhood. I paint it as I feel it, like a fairy tale. The blues on the silk support give more character and dreaminess to the work.
Contemporary Sagrada Familia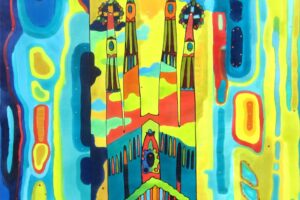 I paint the "sagrada familia" as a radiant and colossal work. The primary and bright colors on the silk enhance the idea of a psychedelic image where, when the building merges with the environment, one does not know if it is an illusion or something real.
Fauvist Sagrada Familia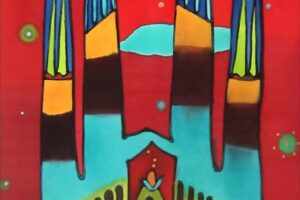 Tribute to the most important work of Gaudí. The explosion of color is essential in this painting to transmit the powerful energy of this colossal work.
Barcelona 5 symbols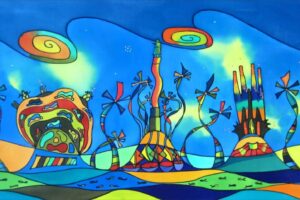 Contemporary and funny vision of a Barcelona skyline. The undulating shapes of the buildings and the waves of the sea give dynamism and life to this painting of Mediterranean colors.
Terrace Casa Batlló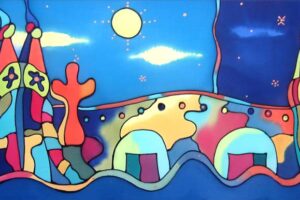 Fantasy composition of the unique terrace of Gaudí's Casa Batlló. In this silk painting, Gaudinian chimneys and modernist forms seem to have a life of their own and illuminate this dreamlike painting of Barcelona with color.
Pedrera terrace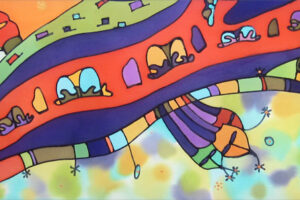 original and fanciful interpretation of the fireplaces and windows of Casa Mila. The vibrant dynamism and color of the painting unleashes the overflowing imagination of the genius Gaudí.
.
Meteoric pedrera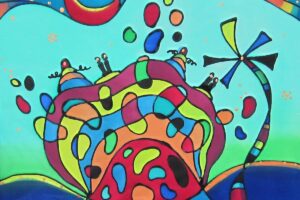 Very personal painting of La Pedrera. The organic liver forms on the front door transform into flying meteorites that fly outward. Fun and imaginative recreation of one of the most groundbreaking buildings of the architect Gaudí.