I have always been impressed and fascinated by architecture.
In this collection I paint buildings that call my attention due to the fusion between aesthetics and functionality. They are, in my view, habitable architectural sculptures and humanistic radiographies of time. I express pictorially these buildings with sinuosity and movement as if they were human beings.

Castle of Oberhofen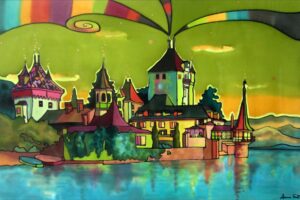 In this silk I try to capture the uniqueness and magic of this fabulous castle. Surrounded by a sublime nature, I invite the viewer to connect with nature and a better world.
Fountains of Montjuïc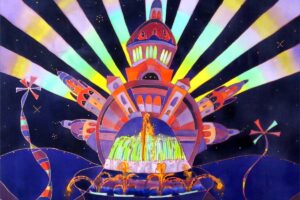 These sources are part of my childhood memories. The silk support helps me transmit the explosion of color, light and water from a prism of marvelous spectacle.
Guggenheim of Bilbao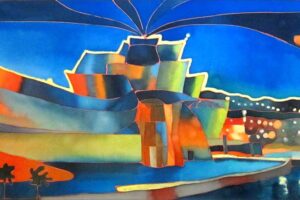 My fascination for a building that amazed me as soon as I saw it. I paint it at night with all its brightness and reflections and where the silk support enhances all the splendor and uniqueness of the Guggenheim Museum in Bilbao
Guggenheim mirror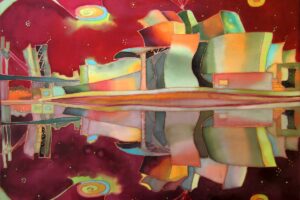 I try to convey my fascination for the beauty of this exceptional building. A marvel that, painted on silk, enhances the reflections in the water and the richness of the gradients on the titanium plates.
Agbar Tower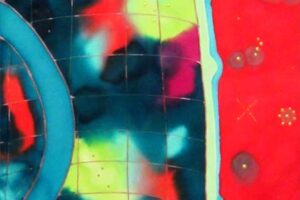 The Torre Agbar is a very unique and original building that fascinates me at dusk for its bright interplay of colors and that is how I paint it, colorful and cheerful.
Tower of the Creu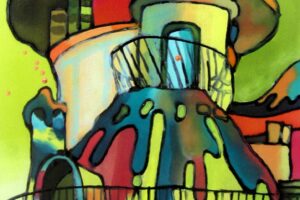 A crush for my senses. The house of eggs takes me back to childhood due to its fanciful shapes and I pay homage to it on the beautiful support of silk.