This collection was born as a reminder of the wonderful day of Sant Jordi that is celebrated throughout Catalonia on April 23.
We have all fallen in love once. This collection is my tribute to true love, kisses with hearts and tenderness between lovers.
Dalinian sunset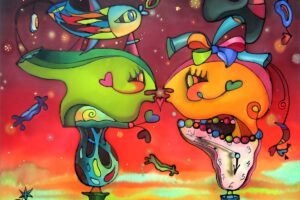 Oneiric and neo-surrealist vision of the painter Dalí and Gala in a balloon through the Empordà.
The silk support enhances the play of textures and luminous colors, expressing a world of happiness and fun.
Dalinian roots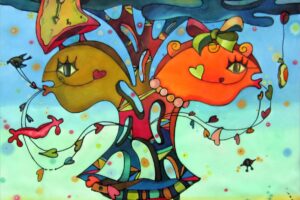 In this painting on silk, I pay tribute to my great inspiration, the painter Salvador Dalí, and to Gala, both merging into the tree of life, which in turn symbolizes the roots of the place where one belongs.
Lovers in the field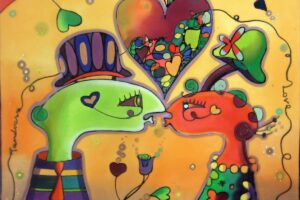 Picture of a tender and innocent scene of love between lovers. The warm range and undulating lines on the silk painting enhance the passion of a summer love.
Rain of hearts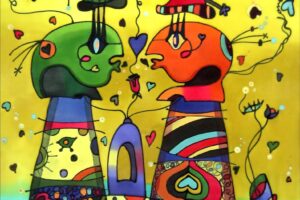 This pictorial work celebrates love, freedom and authenticity among homosexuals. It transmits joy and illusion with a shower of hearts and streamers.
Fish in love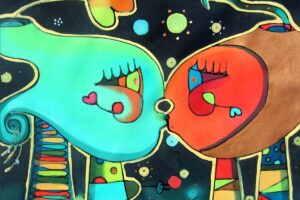 The work shows us the kiss between two fish with a sparkling and jovial background. At the top of the head, the rose and the heart symbolize the Sant Jordi day that I like so much.
Dalinian navigation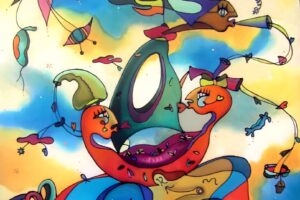 Neo-surrealist silk painting. The waves of the sea are represented with the famous soft clocks of the great painter Dalí. A painting full of fantasy and color that invites you to enter the world of dreams.